Dairy Queen Dip it for Kids Day is March 21!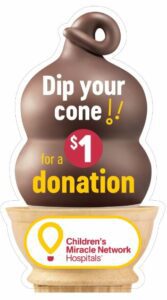 Dairy Queen is bringing back Free Cone day in 2022!
On March 21, guests can get a free vanilla cone at all participating DQ locations  and Dip it for Kids! For a $1 donation, get your free cone dipped in DQ's famous crunchy chocolatey coating. All funds will go to help kids and families at Seattle Children's.
Funds raised by local DQ restaurants support the Greatest Needs fund, ensuring that we have the ability to utilize that money for whatever the most urgent and important needs are at the time. When a sick or injured child needs treatment at Seattle Children's, parents have many concerns. But thanks to your generosity, they don't need to worry about the quality of their child's care – or their ability to pay. Your giving brings healing to children and peace of mind to their families.